19 September 2011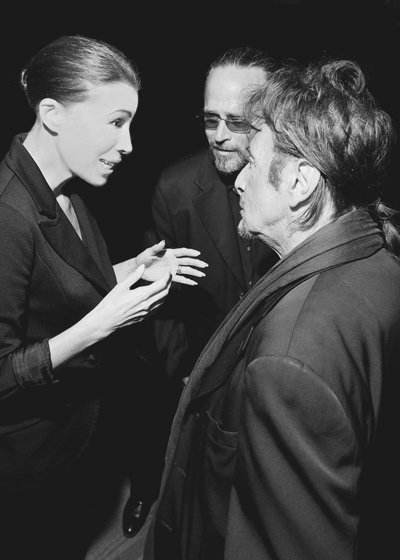 Meeting the Man by Alison Bird
   The Peppers have met and befriended on occasion, a long and distinguished list of notable people, including Paul Newman, Woody Allen, Hakeem Olajuwon, Francis Ford Coppola and Nicolas Cage to name a few. Mrs. Peppers even saw Elvis Presley when she was a young girl while looking out the back window of her mothers' T-Bird while riding down an interstate outside Memphis. He smiled and waved to her from his white Phantom Rolls Royce.
   Yet the one person she has wanted to meet for years, Al Pacino, had eluded her until now. "Mr. Pacino is the only one we have photographic evidence of. He had asked me the details of J.D. being bitten by a rattlesnake when a photographer walked up and blinded me with his flash. The spots in my vision were well worth it." The couple said the only way to describe the event is that it was a once in a life time chance to watch him act out several different roles on stage and meet the man himself.

2012 March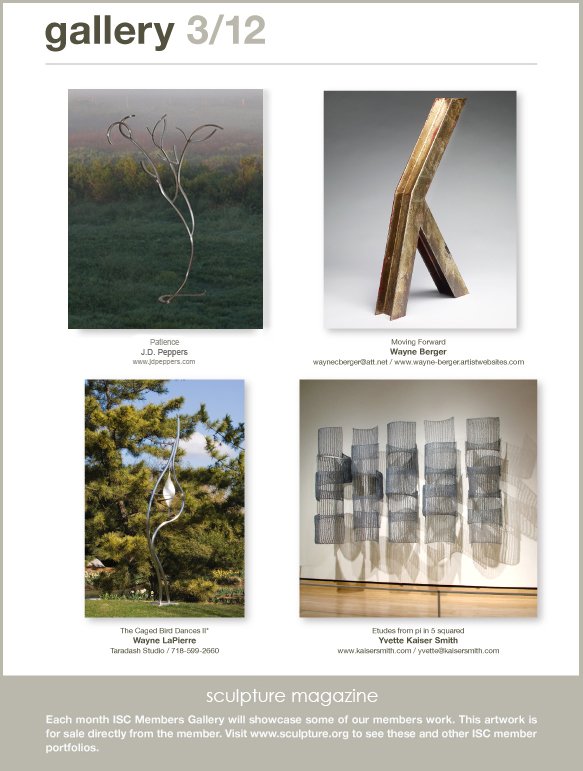 Patience by JD Peppers featured in the International Sculpture Centers' publication Sculpture Magazine

2012 December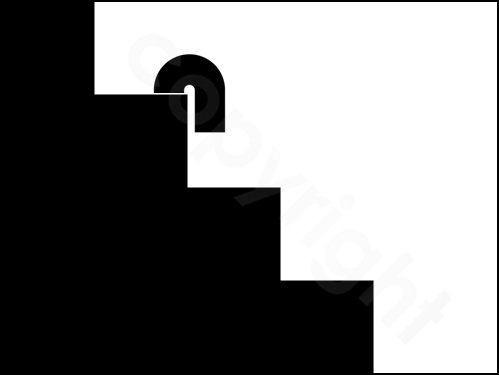 Wonderful Toy by Leslie Peppers has been in the Peppers' private collection for over two decades. We are thrilled to announce the public debut of this painting. Permission to allow the painting to keep its title was generously given to the artist by Mr. Doug Ferner and Mr. Ray Dallavecchia of Slinky.
2013 May


There is a new series in red, black and white by Leslie Peppers titled Childhood. There are three editions at present, Red Wagon, Swing and Kite. We are looking forward to what editions the future will bring.
2013 June
Announcing the debut of Art in Motion videos by Leslie Peppers. They consist of CGI's made by the artist of her paintings set into motion and ones in her signature text. These limited editions are available at Sedition, a ground breaking website based in London, England where one may purchase art in digital HD format by some of the world's leading artists. The art can be viewed on ones PC, tablet, cellular phone or television.

There are artworks in video, still's and photography by film director Wim Wenders, Tracy Emin, Damien Hirst and a client of Mrs. Peppers', Yoko Ono, just to name a few of the talented artists at Sedition. To discover a whole new side of this amazing woman and an exciting new way to collect art click on the following link, www.seditionart.com/leslie_peppers.
2014 May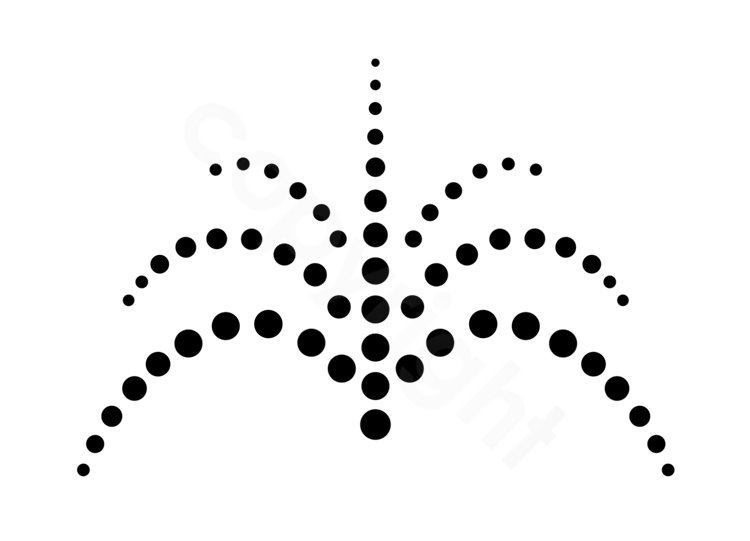 While writing the description of her painting Fountain, that can be categorized in three art genres, Modern, Minimalism, and Pointillism, the artist wanted to give it only one and realized there is no genre to accurately describe this style of her art. So the need for a new one arose. In doing so, a new genre of Fine Art has been named and founded, Modern Pointillism.
2015 March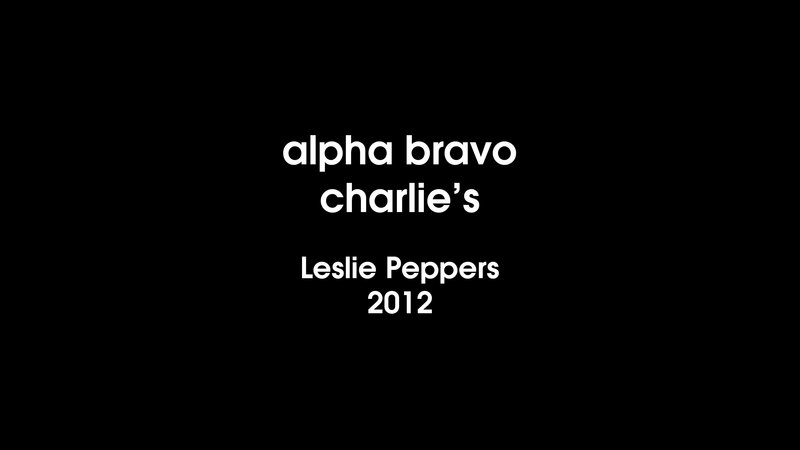 A gift from the artist, an Art In Motion video in HD
of the NATO phonetic alphabet paced to the children's ABC's melody.
Be prepared to keep up when it gets to the words for l,m,n,o,p.

Click here to watch this at vimeo.

2015 April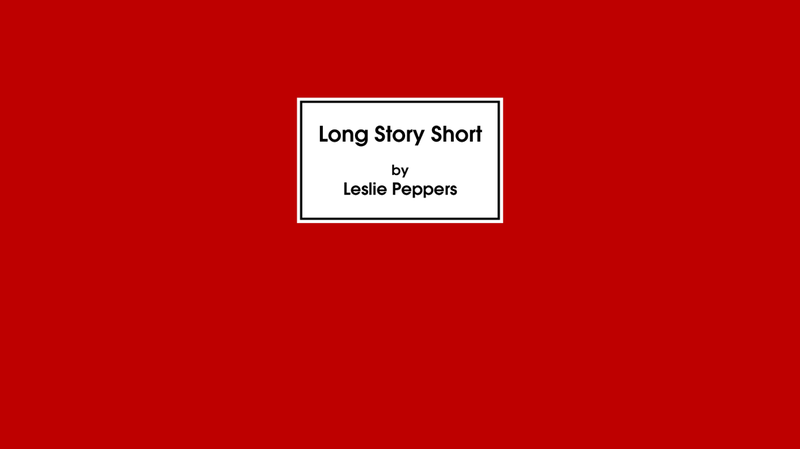 Long Story Short by Leslie Peppers is the artists' first Automated Book. It is a fairy tale parody of two lost children turned into very dry humor. It is complete with pages that turn and a synopsis on the back flap of the books dust cover. To read the automated book at vimeo click here.

2015 May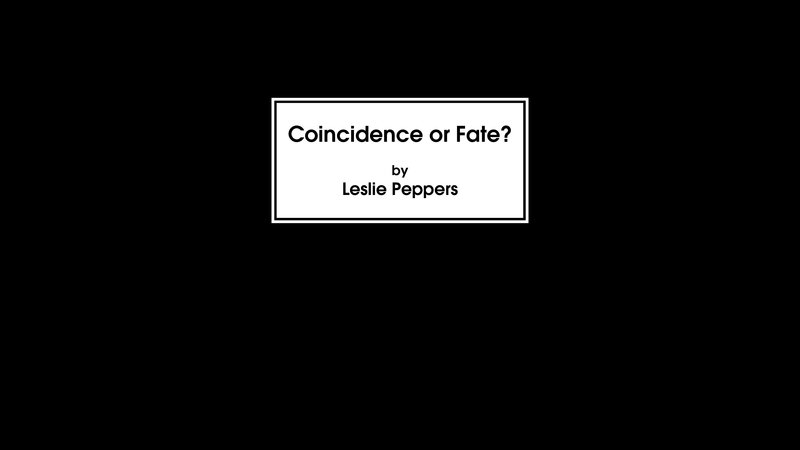 Coincidence or Fate? by Leslie Peppers is a true story about a chain of events in the author's life. It begins in 1974, when she was a child, with a brush with death that her mother saves her from. From there the story unfolds over the next 29 years. It concludes during the 2003 SARS epidemic. It is a must read because it reveals an herbal tincture that has successfully treated  many respiratory illnesses, including pneumonia. To read this automated book at vimeo click here.

2015 June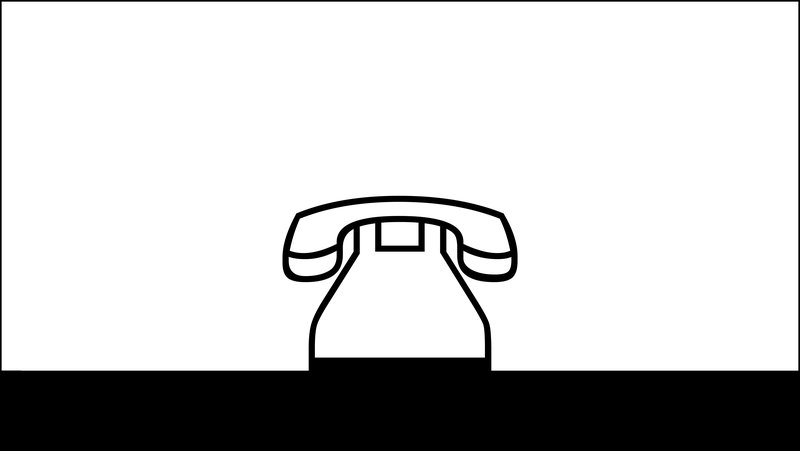 Fresh Hell by Leslie Peppers is inspired by true events in the life of Dorothy Parker. A friend was visiting her during the Hollywood Blacklist days and her name was on it. The phone rang and she said to the friend, "What fresh hell is this?"
The artist made this is in the style of the old silent films to prevent you and others from hearing the sound that can at certain times make your blood run cold, the phone ringing.  Click here to watch the video at vimeo.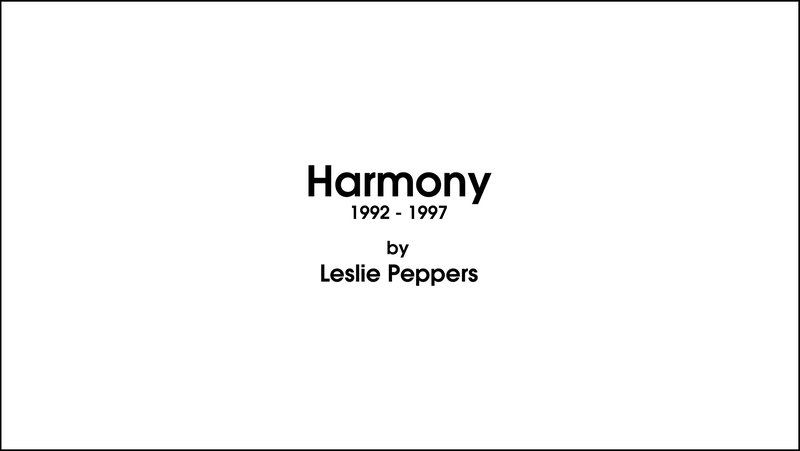 "I watched a beautiful time lapse video, The Voyage by Beno Saradzic, at vimeo. It inspired me to create an Art In Motion of Harmony, a series of paintings I started in 1992 and completed in 1997. After you watch it you may think that it was taken from Coexist, but that began three years after the paintings were exhibited. My series is pure and has no distractions, just the symbols and is something I am most proud of." Leslie Peppers
Click here to watch the video at vimeo.

2015 July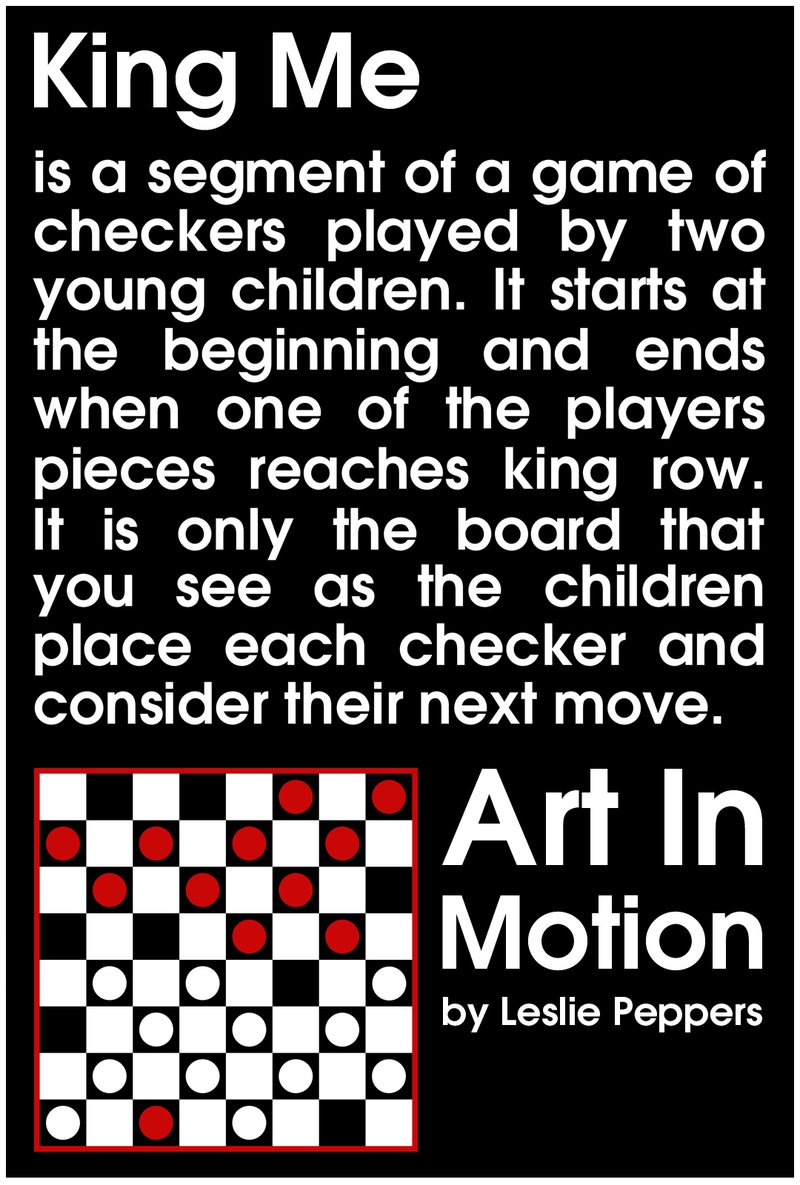 King Me was created in 2008. It is the first

Art in Motion video by Leslie Peppers and is available

though vimeo. To view the trailer click here.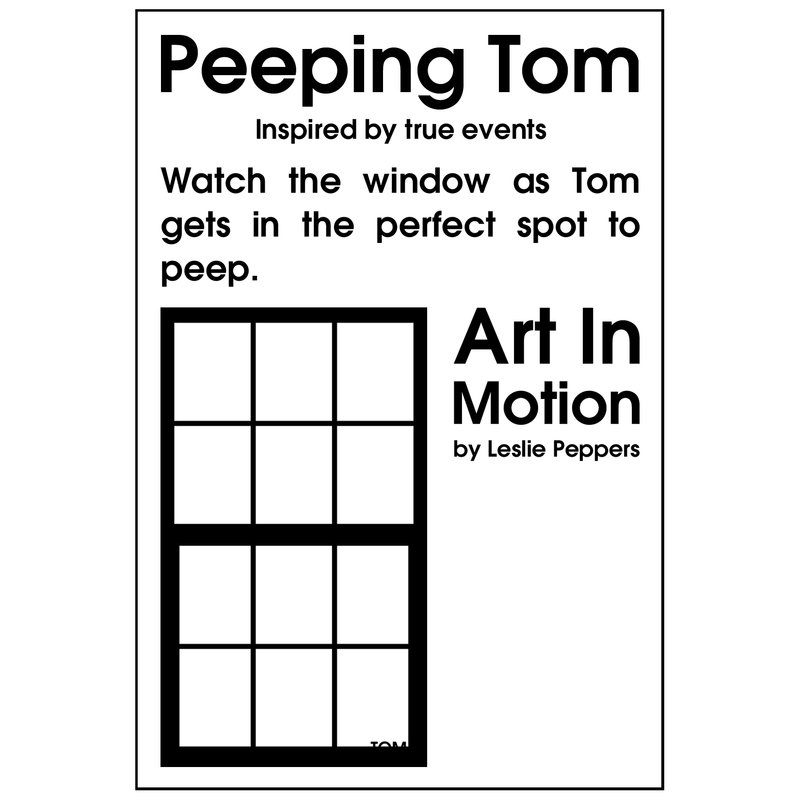 Peeping Tom uses the name Tom, instead of a face, moving erratically as he tries to find the best line of sight at the window without being detected. He is quite high strung as he moves in and out of view, but you must purchase the full length video to find out how he finally exits the scene, which is highly entertaining. To read the story that inspired Peeping Tom and watch the trailer at vimeo click here.



2015 August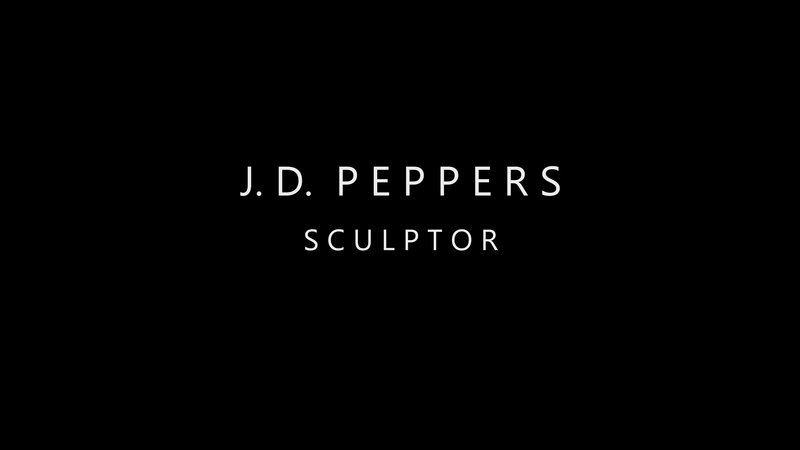 This is a short film made by Leslie Peppers from various exhibitions of

sculpture by JD Peppers and is the sculptors' World Wide Web Exhibition.

To view this video at vimeo click here.



2015 October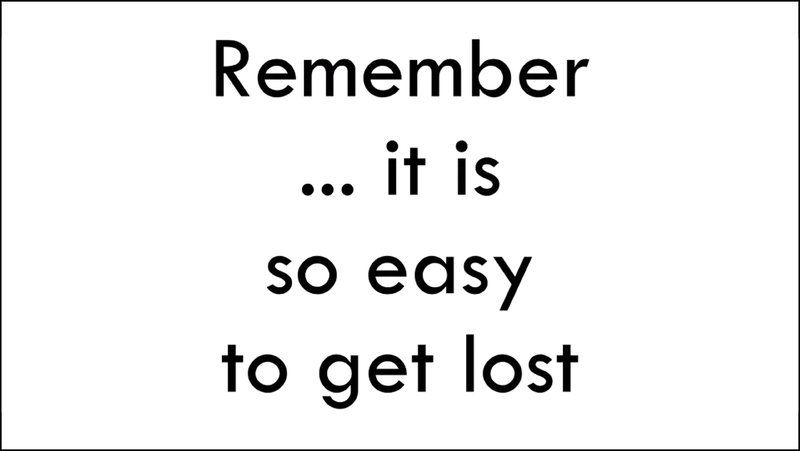 "As I watched a documentary on the Yogi Paramahansa Yogananda the subject came up of how easy it to get caught up in the events and chaos of everyday and lose you equilibrium. Just before this I had spent two very long weeks in back to back blindsides and was occasionally looking outside to see if one of the Four Horsemen of the Apocalypse was lurking." Leslie Peppers

To view the video Everyday Life on vimeo click here.

17 November 2015


Death Match by Leslie Peppers
    It is said to believe none of what you hear and half of what you see. In this case I could not believe what I was seeing. Let me begin with this, the back wall of our house is glass. There is a deck 6 feet wide that runs the length of it inches from the ground. There is a wetland at the back of our property. I often stand in the dining area looking at it. On this particular day I am watching a Great Blue Heron fishing. In the corner of my eye I see something move at the edge of the deck 5 feet to my left. As I focus, to my disbelief I see the head of a rattlesnake. It proceeds to inch its way onto the deck in my direction. After about three feet of length is visible I expect to see its' rattle. No, it becomes the never ending snake. By this time my heart is pounding. When the whole thing is finally crawling across the deck in front of me, I see that it is almost five feet in length and wide as a baseball.
    When I realize my heart rate is off the chart I get a sedative, place it under my tongue and grab my phone to call JD, who is on the way home from his studio. "When will you be home?" "In about five minutes." "Could you make it home a little faster please?" "Why? What's wrong?" "There is a rattlesnake on the deck that is close to five feet long and the size of a baseball." I really do not remember what he said after that, but I did tell him to get the shovel and come to the back on the right side of the house. I am standing in my spot and it is directly in front of me. I stay on the phone with him until he is home, has the shovel and is about to reach the deck. At last, JD is visible. When he sees it he steps back out of instinct. Hearing its' size and seeing it is two different things.
    I want to walk away, even though I am inside, this thing is 4 feet from me and it is upsetting, but I stay to give JD support and to see if things go bad. He has grabbed the square shovel with sides on the spade. I thought that was not the best shovel for this, then I realize I will not have to live with the image of it being decapitated, so I'm cool. JD raised the shovel and struck it so hard things on the deck fell over. This made it angry. He struck it again. This time it looked at him, raised its' tail and shook its' rattle. I heard it. Then it tried to strike JD. His jaw dropped and he looked at me. Then JD turns, looks at the snake and says, "I killed your brother too." (This is a reference to the one that bit him and sent him to the Trauma Unit.) Are you serious? Did he just talk to that thing? I finally screamed,"Kill it." and he did.
   Our daughter's boyfriend told JD he should have kept the rattle, but we explained the sound would mess with our heads. JD took photographs of it as proof of how big it was, but I cannot bear to look at them. The next day his slightly younger brother came looking for him. He went under the deck. JD was at his studio. Days later he was crawling around the deck in front of me at my spot. I called JD and Animal Control. I had to watch him until they got here. This one was taken alive and relocated. I am scared for life. The wooden deck is going to be a concrete patio soon.

2016 April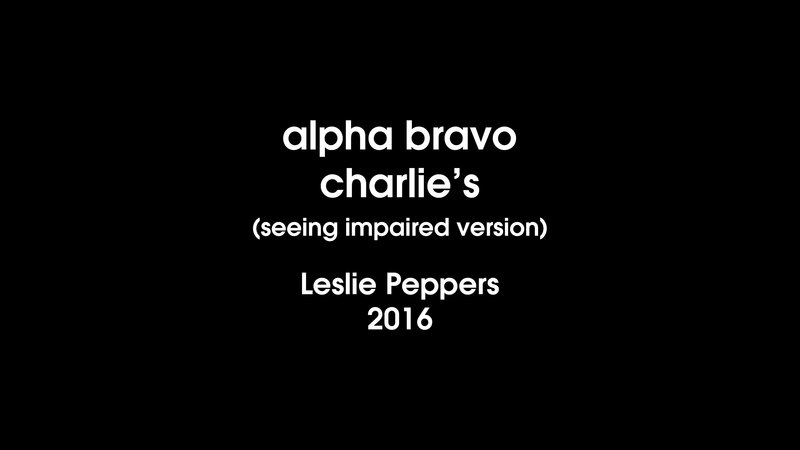 The seeing impaired version of Alpha Bravo Charlie's, the NATO phonetic alphabet
paced to the children's ABC's melody, is the first Art In Motion video to have sound. It is
narrated by Leslie Peppers. To hear it and watch this at vimeo click here.

19 June 2016

Surprise by Leslie Peppers

    Years before the terms of ground rushes and Extreme Sports were coined JD was a ground rush junkie. He started riding a mini bike at the age of four and when he was 12 he started illegally riding a dirt bike on streets terrorizing neighborhoods looking for dirt and eluding law enforcement officer's chasing him. At fifteen he was competing in Motocross races and winning I might add. At sixteen in one such race he encountered a pileup he could not avoid, injured his spinal cord and wound up in traction for several days. A year later he went down again, re-injuring the same vertebrae in his spinal cord and landed in traction again. At this point he was told another spinal cord injury could put him in a wheel chair for the rest of his life, so he reluctantly hangs up his leathers.

     In his quest to find his next ground rush venue he discovers Free Climbing, what is now called Free Soloing. In his 30's on a climb with a friend on the ground, he found himself in an area the rock had condensation on it. He knew he was going down and was well over 30 feet high. He had to decide in two seconds whether to fall along the rock or turn, release and attempt to tuck and roll. His friend told me that it looked like he was base jumping. He was standing on a five foot ledge that had another 40 feet below it. When JD landed he bounced and his friend threw him back down to ledge to prevent him from falling the other 40. He was lucky to be alive. Like it was yesterday I can see what JD's legs looked like. His knees, ankles and the area starting two inches below his toe's and everyone one of his toes were black. His right knee was never the same. Twenty years later he still wears a serious knee brace and will only run in emergency situations.
     Before I leave the house I always lower the storm shutters and when I return the first shutter I raise is the one over the kitchen window. It was Father's Day and in an unexpected twist he asked to go see a movie. We had not been to a theater in three years or more. We are not fond of theaters that are filled with rude people covered in cheap fragrance and are always so cold meat cold be hanging in them.
    When we returned home he went to the back of the house to add water in the rock waterfall. I went inside, raised the kitchen shutter and ate cheddar cheese to regulate my blood sugar as I raised the front ones. I walked back to the kitchen and was about to rinse my fingers and raise the ones in the back to keep an eye on him when I saw him run past the window. I knew in a split second he had seen a rattlesnake and did not have the shovel by him of course. Before I could get the back shutters up I heard a thud and silence. I am pretty sure I was not breathing. When I finally got the shutters up he was standing near the window several feet away from the shovel handle resting against the deck looking wild eyed. "Are you all right?" I asked. He replied, "I'm all right. I got the big one that got away." He walked over to the shovel and looked down in the grass, came back to the window where I was and said, "Seven rattles." I shook my head. "He did not even see me until the shovel was going down and I told him: Surprise. You aren't getting away this time." While I am elated that he got the thing, I still find it a bit disturbing that he talks to them before he takes them out.

2016 July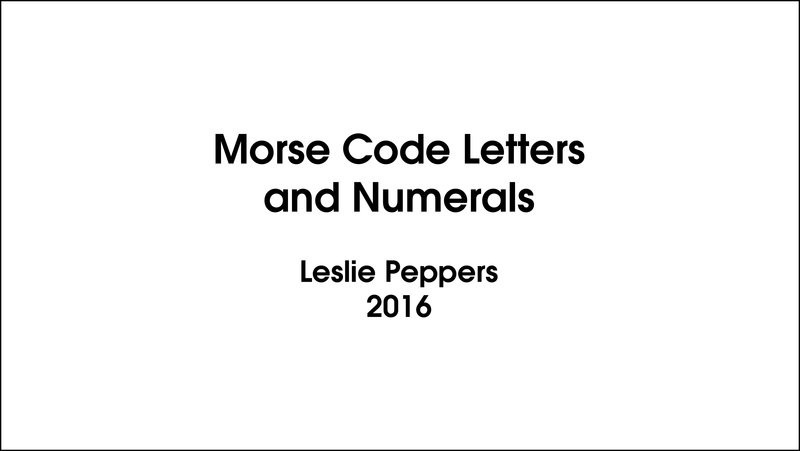 Learning the Morse code is no easy task and knowing it could help one in a perilous situation. I made this tutorial video to make it a tad easier. Just making it I learned six letters and all the numerals. The distress signal of SOS I knew from my childhood. The letter reads first without the code for a very good reason; as you learn, guess and seconds later see if you were correct." Leslie Peppers  Click here to view and learn the content of this video at vimeo.
2016 November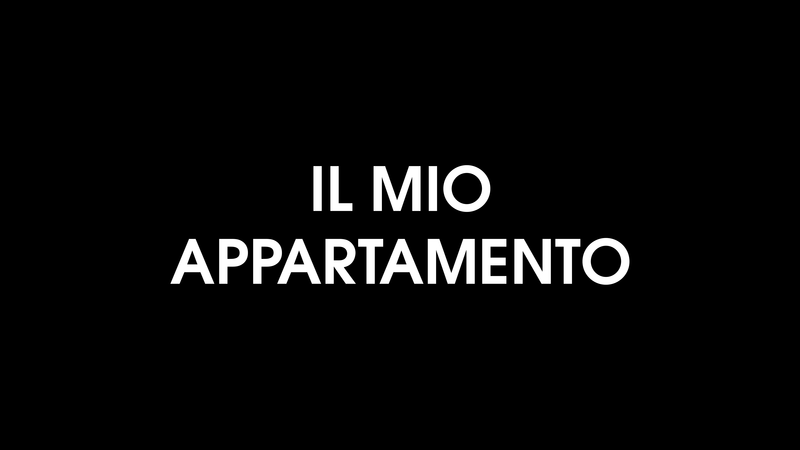 "While working on a parody series of quotes and famous words I remembered a thought I had while watching a scene from the documentary by Al Pacino, Looking For Richard on the historical play King Richard the Third by William Shakespeare. The scene was from the Third Act when King Richard is surrounded in the battlefield and exclaims 'A horse, a horse, my kingdom for a horse.' and I thought in this day and age he would wish for a taxi." Leslie Peppers

The Taxi Series by Leslie Peppers has versions in English, French, Italian and Spanish all available at vimeo.
To view the English version click here.

To view the French version click here.

To view the Italian version click here.

To view the Spanish version click here.

There is one in English for the United Kingdom, where an apartment is referred to as a flat available at Sedition Art, London. To view the UK version click here.




17 February 2017

WARNING: A photograph of a rattlesnake follow this article


Proof by Leslie Peppers

    The lawn service came this morning. After they left there was a rain shower which meant the grass would be very green. I flipped the switch that raises the storm shutters to admire the property. As I stood at the window I made my way along the grounds to the sculpture in the back right corner. When I saw it I thought, "What is on the sculpture?" and then I begin to laugh like I am an insane person as my heart rate increases while going into complete and utter denial. I get my binoculars and go back to the window. After I focus them there is no denying that a dead rattlesnake is indeed lying on the sculpture. While I am swaying and wrapping my mind around what I have just seen I think how bizarre and why would they do that.

    Then I freeze. With the knowledge the owner of the lawn service is from Mexico and most of the men on his crew's are as well, I know the answer; it is a warning sign. I grab the phone and call Alex who is the owner and tell him there is a dead rattlesnake on the sculpture and I need him to call the foreman of the crew to find out the details and call me back. Two minutes later he calls and is speaking very fast. "This is Alex. I spoke to my man and he said tell the Lady be very careful, very dangerous." Then he starts speaking in Spanish which means he is quite upset. I do not speak Spanish but I do know a few words and I catch "muchos diablos" which means many devils and "machete", a broad bladed sword. He finally takes a breath and I ask, "Alex, what are you trying to tell me?" He sighs and says, "Two of my men were trimming at the rocks and all of a sudden many many rattlesnakes came out from under the rocks. Do not go back there, ever and be very careful when outside, they are very dangerous. My men will keep machetes in their belts."

    This creates a vivid image. I tell him not to worry I will not go to the back and explain to him that snakes think vibrating ground means there could be a cave-in and they will flee from underground. He told me he did not know that. I say, "The man on the lawn mower must have gotten close to those men and caused all the snakes to come out. You need to tell your men this and in the meantime I am going to make some calls." After we ended the call I shivered and continued to do so for hours to the point my skin tingled. I will walk around outside in what is referred to in Texas as high dollar tall shaft cowboy boots and will from this day forward.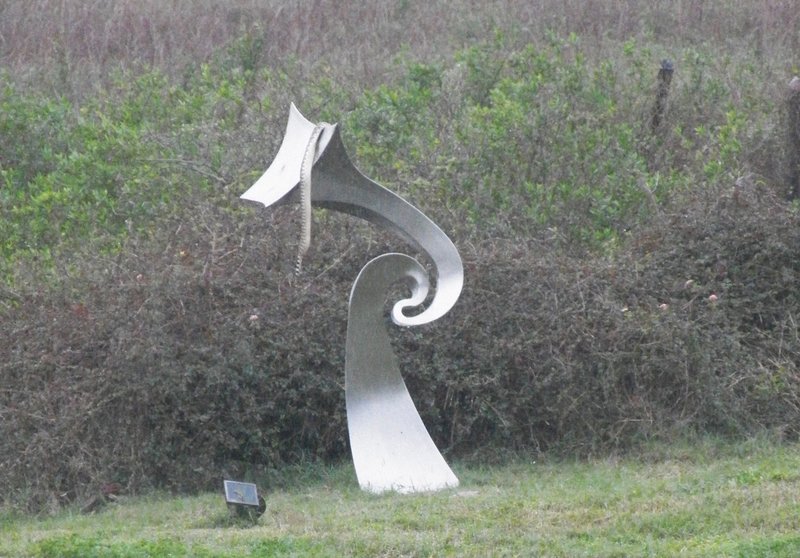 4 May 2017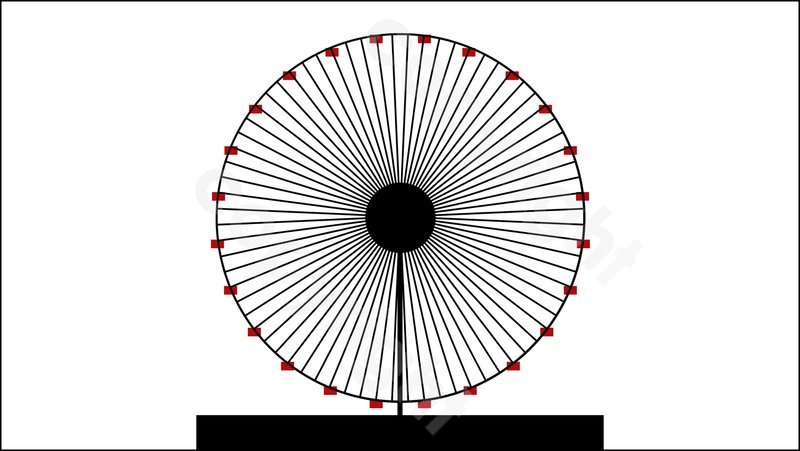 A Gift from Leslie Peppers


A television in my home for many years has been something one connects a DVD player to for watching movies or listening to music through surround sound with. Inspired by a digital photo frame I started using my 60" TV as a computer monitor to view images of my art because most of the time the television was off and the size is incredible. In time I had the idea to make video's using images of
my art along with

some of my favorite songs. Due to the copyrights of these songs I have kept them to myself until Michal Hamboug made his recording available to the public on FMA.com of

Chopin's Etude No. 1, Op. 25 - in A-flat

. It is my distinct pleasure to finally share one that is very dear to me. Simply click here to look and listen.
3 June 2017

To say that Leslie Peppers is a very private person is an understatement and recently we discovered how deep her privacy runs. Apparently for years she has made artworks for a private collection that only she sees. As a way to celebrate her birthday Leslie has decided to share part of this collection with the public, her incredible

Egyptian Series

, left to right:

Step

,

Ra

and

Giza

. Leslie also agreed to answer a few questions regarding them.


An Interview with the Lady by Alison Bird

     Why I was surprised when Leslie told me about her private art collection is beyond me, but when I viewed the images she was going to release of an Egyptian Series, those came as no surprise. When I met her I noticed the gold ankh she wore on her right hand that was apparent she has had for years. I thought it was something symbolic of her youth. Over time I realized it had to do with her keen interest in all things Egyptian.
     Never will I forget when the ruins from the Lighthouse of Alexandria were finally located. Instead of being excited when something was discovered, Leslie was aggravated that it took archeologist so long to look under water. She told me she knew where it was years ago and entertained the thought of making a few phone calls, but decided to see how long it would take for someone to get their head out of the sand.




How did your interest in Egyptology begin?



     "When I was around seven years old my mother purchased a set of

World Book Encyclopedia's

. I had seen them in the library, so I knew exactly what they were. Mother put them on a shelf that was at my eye level and left the room. I remember standing there looking at them, knowing that anything I wanted to know was in those books and I was going to read them. So I pulled the

'A

' volume, sat on the sofa near the fireplace and began changing my life."



You could read at that level when you were seven?



     "I knew the sound of the letters in the alphabet and all the rules so I was able to sound out any word that I came across and when I didn't know the meaning I would stop reading and look it up in the dictionary's, two four inch wide volumes that were part of the set. It did not take me long to realize I should get those and put them on the sofa beside me before I began to read. I had no idea that it was unusual for me to be able to read anything until a few months later I was in a neighbor's house that had two boys and a girl all in college.
     "Their books and papers were on the coffee table. Out of curiosity I picked up a set of papers and began reading them unaware the girl was watching me until she came over and asked if I was reading. I told her yes, apologized for touching her things, and put them down. She told me it was fine and asked me to read aloud for her. After a couple of minutes she asked me to wait and returned with her brothers. I remember I came across a long word and sounded it out in my head. When I knew it I read it aloud and finished the sentence. Their eyes got wide then they laughed. I lowered my head and one of the boys immediately told me they were not laughing at me, they were laughing because they could not believe what a smart little girl I was. He asked me what grade I was in and when I replied the second grade, things escalated. The next year I was sent to a private school.
     "For some reason I do not remember the first thing I saw that began my love for Egyptology. This is what I know; that when I was seven years old I built The Step Pyramid of Djoser on the beach instead of a sand castle. At nine years of age, for my first science project I built The Great Pyramid of Cheops out of sugar cubes. When I was 11

The Ten Commandments

with Charlton Heston was being aired and I was so looking forward to seeing Ancient Egypt come to life. The night it aired I sat in the floor less than four feet away from the screen to watch it. I was mesmerized and can see that moment in my mind right now as if it were just an hour ago."



The image Ra, because I know you, has a story. How much of it are you willing to tell?



     "What is relevant I suppose."
After watching her get lost in thought she began telling the story. "This is a view I caught in the corner of my eye as I passed a long slender window of a house I lived in. I stopped and stood looking at the beams coming through the clouds down to the horizon until they started to fade. I had never seen anything like it. I sketched it immediately.  Several years passed and I finally made the artwork from the visual I carry within because the sketch with the title, time and date on it got away from me during the controlled chaos while moving out of what was left of the house in 2008 after a hurricane. When I finished the first draft I named it after Ra, the Ancient name of the Egyptian sun god, because it reminded me of how the sun was depicted on the gold throne for a pharaoh of Egypt I was privileged to see. This one is my favorite."
     "The image with the single pyramid

Step

was made from an overlay on a recent photograph of The Step Pyramid of Djoser located on the Giza Plateau. The only adjustment I made is the top of each step are flat instead of at a slight angle; I resisted the temptation to draft this into perfect geometric dimensions to keep it true to what one sees at present.

Giza

was made from an overlay on an aerial photograph taken in 1904 of the three large pyramid's on the Giza Plateau, therefore the scale is 100% accurate. This made the perfectionist in me very happy."
Ms. Peppers is still emerged in a project
that

for nearly two years she has not given a hint as to what it is, but every now and then she has created something unique or will allow us to see things that she keeps to herself. This showed up today on the Facebook page, The Art of Leslie and JD Peppers on the anniversary of Claude Monet's birthday; a virtual coffee table book she made of a few of her favorite paintings by the artist.
 17 February 2018
Once again Leslie Peppers has been entertaining us, this time by posting a music video almost every Saturday night on her Facebook page. If she cannot find a video she likes for a certain song she wants to play, Leslie will make her own and add it to the YouTube channel for Early Bird Co. The following is a very good one due to the candid vintage photographs she collected of men giving a goodbye kiss to their women before they left for WWII.


The long wait to find out what the project Ms. Peppers immersed herself into and
kept secret from

all

who know her has ended. She has written her first novel,

The Captain's Wife.

It is Book One of

The Lyons Saga

and is dedicated to her daughter. The story is set in Southern California, a place that she knows well and loves. Go to the upper navigation bar and click on

The Lyons Saga

for more information or to purchase this novel in all formats at Barnes & Nobel, Amazon's
multiple country websites along with Foyles and
Waterstones of the UK

.  For eBooks
go to Apple Books
and Kobo, a US and international website

. The novel will leave you wanting the second book in the saga,

The Commander

; the release date for it will be in December of 2020.
2 April 2019


The first group of merchandise for fans
and promotional items for retailers of

The Lyons Saga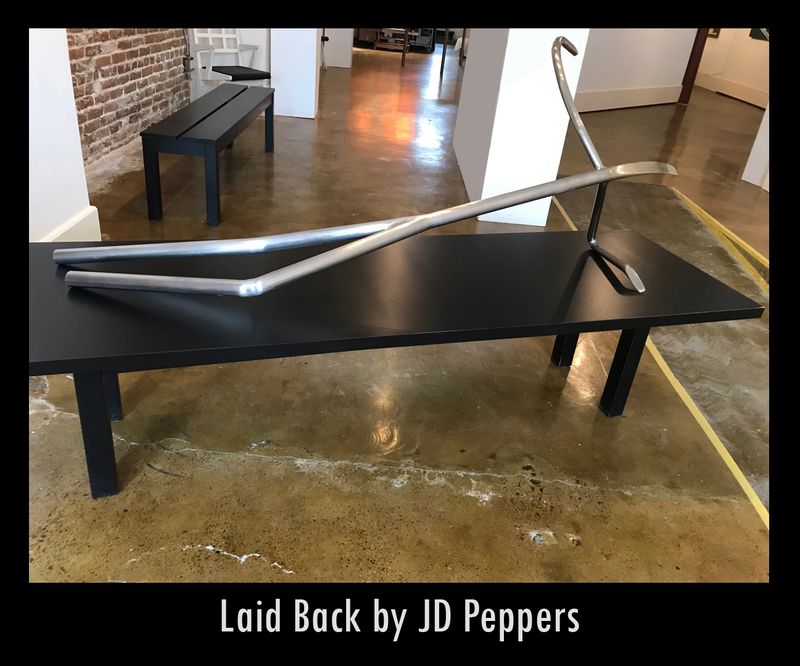 Something very rare is about to happen, a sculpture by JD Peppers are going to be on exhibit in a gallery from the opening night, April 27, 2019 thru June 1, 2019. The gallery is located in the Historic District on Galveston Island at 2413 Mechanic Street.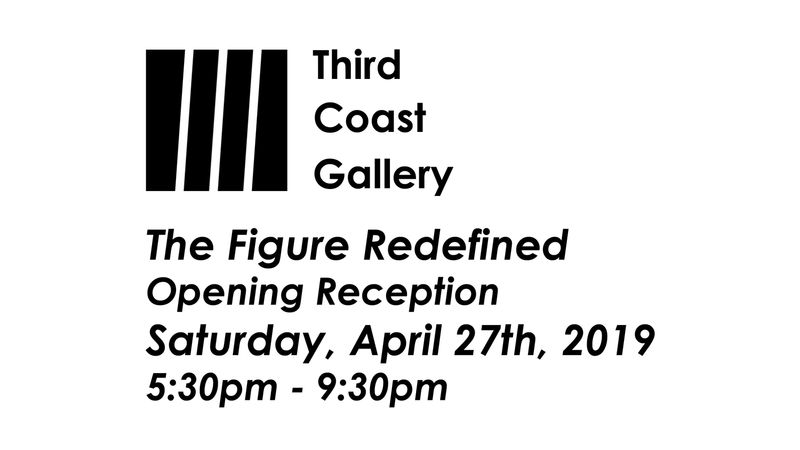 For over a decade Mr. Peppers sculptures have only been available online, so put this on your calendar.
14 August 2019


       Foyles is a renowned high end book shop in London with a history that starts in 1903 and
it is an intriguing history. One instance of humor is during World War II William Foyles covered the roof with

Mien Kampf,

a book written by Hitler in 1925, to ward off bombers. More than likely by chance it was not hit, but still. Also, it has been winning awards for decades, the most illustrious is the UK Bookseller of the Year that Foyles has won several years.

Ms. Peppers has dreamed of being associated with it for quite some time.

Today the dream came true with
The Captain's Wife

. For those of you who do not live near a Foyles click on the following link; Author Leslie Peppers at Foyles. First Barnes & Noble, then
Waterstones of the UK
,
Apple Books and
Kobo, the worlds largest eBook online distributor, just to name a few.

The Commander,

book two of

The Lyons Saga

will be joining book one in December of 2020.
14 December 2019


       Leslie Peppers is in stable condition after being bitten by a poisonous spider in her sleep on the front of her right shoulder. Being above her heart will complicate matters. It is believed the culprit is a brown recluse and will require hopefully only several weeks of recovery time. Unfortunately Ms. Peppers has had experience with poisonous spider bites having survived being bitten by a Black Widow on her right cheek when she 21 years of age. It took her 18 months to fully recover.
27 December 2019


       The saying "When it rains it pours." leaps to mind today, because JD Peppers has broken his right hand this evening. His hand and forearm is in a brace while awaiting for an appointment with a specialist, an orthopedist on 3 January 2020. The reason for the wait, 3/4 of the specialist in the south of Texas have gone on holiday for the new year.
       Mr. Peppers has a pull fracture in his fifth metacarpal bone. The doctor had a cast put on his hand and forearm that cannot get wet, then made him an appointment with an orthopedic surgeon on 13 January 2020 due to the fact it was broken while in his teens.

Update: 13 January 2020

       Good news, Mr. Peppers hand is healing nicely and does not require surgery unless he does not follow the doctors strict orders, which he will. And the troublesome cast has been replaced with a removable one to only be removed for, shall we say water activities and when he is with his rehabilitation specialist.
       Ms. Peppers is recovering from the spider bite a well as to be expected. She requires unusual amounts of sleep and being the determined woman she is has been working on her book when she is awake and able to sit at her desk. But the rain continues, the monitor to her computer is going out and she lacks the strength to lift the existing one and replace it. Mr. Peppers is not allowed to lift anything over two pounds. Her computer technician is booked solid for the next two weeks.

       The monitor has been replaced with team work. Apparently two weak arms and one strong arm can get a job done. When there is a will there is a way.
10 February 2020
       Let the celebration begin. The cast is gone, the sculptors hand has healed. And while Ms. Peppers has been recovering on a cot in the middle of her living room she has been designing a line of home furnishings that are waterproof, inspired by living in a flood area along with a few decor pieces to go with. She intends to put this into production soon after

The Commander

is published, but life could have other plans for the debut.

      Due to my Self-Isolation it pleases me to let everyone know the editing process for

The Commander

, which began before my isolation, is well over the halfway mark. Hopefully you will have your hands on Book Two in the not too distant future.

      At last I have finished editing

The Commander

. We began the publishing process in May which entails applying for a Library of Congress Control Number and a copyright. Due to COVID-19 all government agency's are closed and employees are working from home. This is impeding our progress. The publication date could change. We will keep you updated.
 5 October 2020
      The Peppers are proud grandparents to a perfect baby boy. His name is JJ. His mother is doing well, the father, not so much. Due to COVID-19 they were not allowed to be there, but because of FaceTime they did not not miss too much. His parent's sent the first photograph of him to share. There is no question this is indeed a boy.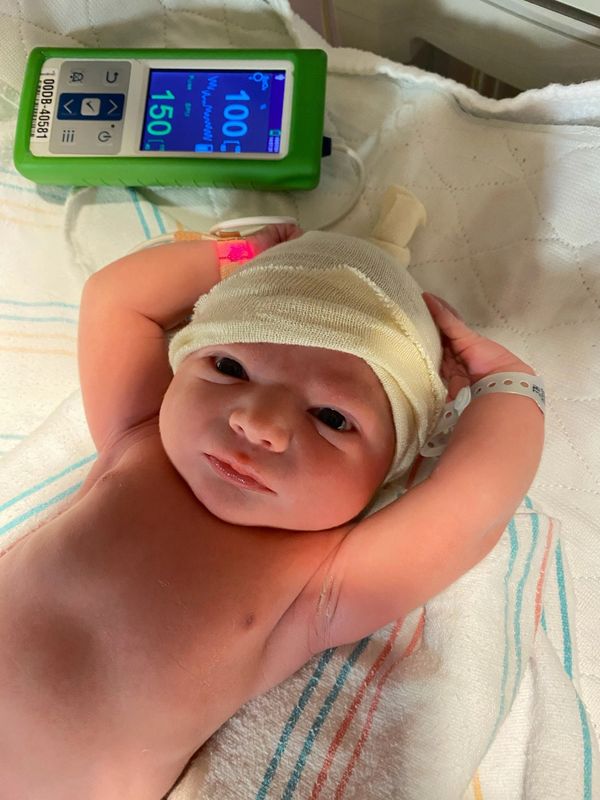 8 December 2020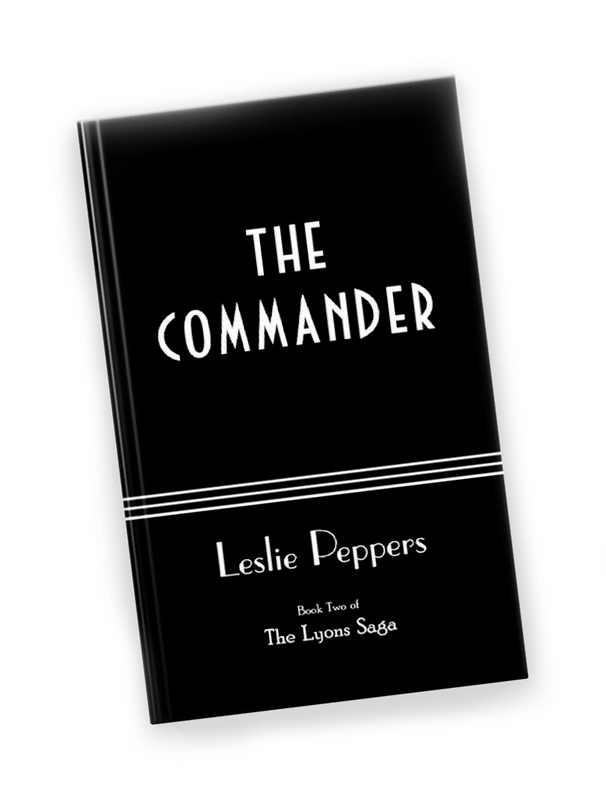 Through sheer determination for almost a year
the second book of the trilogy

, The Commander,

has been published. And it is well worth the wait for it goes places

The Captain's Wife

did not.

The Lyons Saga

is now for readers of 18 years of age and up.
     After months of a voluntary lock down in my home, only leaving occasionally to visit my grandson, I was forced to leave for six nerve racking days. It all began on the morning of the 15th with the the arrival of a winter storm causing the power to go out in the wee hours. I went back to sleep after turning the alarm off of my computer backup power source expecting that when I awoke in the morning the power would be back on. I woke up two hours later because I was cold. The power was not on. After hydroplaning so many times on I-45 I stopped gasping and didn't even flinch. Eight hours later we found a hotel. The rest I do want to not relive.

On the 10th I noticed one of the Four Horsemen of the Apocalypse, Destruction, was on the front lawn.
 10 December 2021
Destruction is still here. I have been clinching my jaw while sleeping and this morning I awoke with a broken tooth. I split my lower right 2nd molar. Theses things always happen on a Friday. Have you noticed that?

12 March 2022
As we were leaving our house to celebrate JD's birthday with our grandson I noticed the Horseman was gone. So, we celebrated two things.

20 May 2022
From Alison Bird

Available In Large Print Editions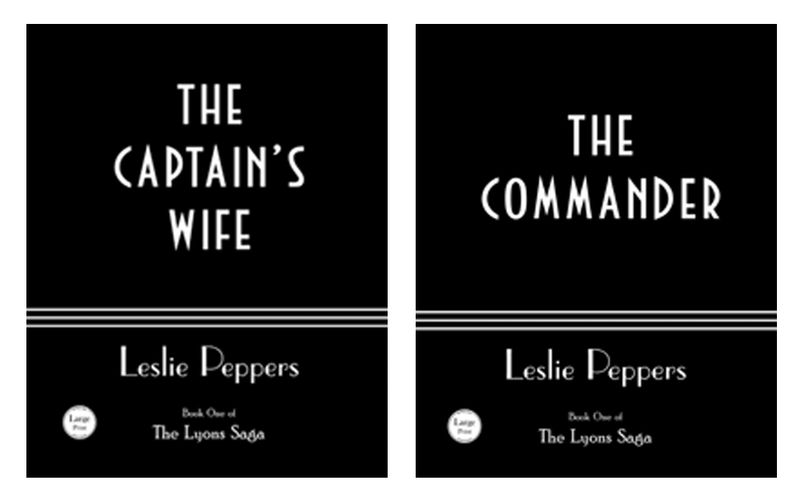 For year as an artist Leslie Peppers has made videos for the seeing impaired.
Wanting to continue doing so as an author, like we say in Texas, she bit off more than she intended to chew.
Beginning in mid-February she has converted the manuscripts and
redesigned the covers of Books One and Two of

The Lyons Saga

for large print.

The format is only available in paperback. Links to purchase it are on

The Lyons Saga

page.

20 June 2022
From Alison Bird
Ms. Peppers book,

The Commander

, will be on display at the American Library Association Annual Conference & Exhibition in Washington D.C. June 24-27, 2022. Admission is free and each attendee receives a catalogue of the books on exhibit. Her beautiful Art Deco black and white matte finished hardback book will be easy to find because we have been told repeatedly by everyone who sees it, "I've never seen anything like it."